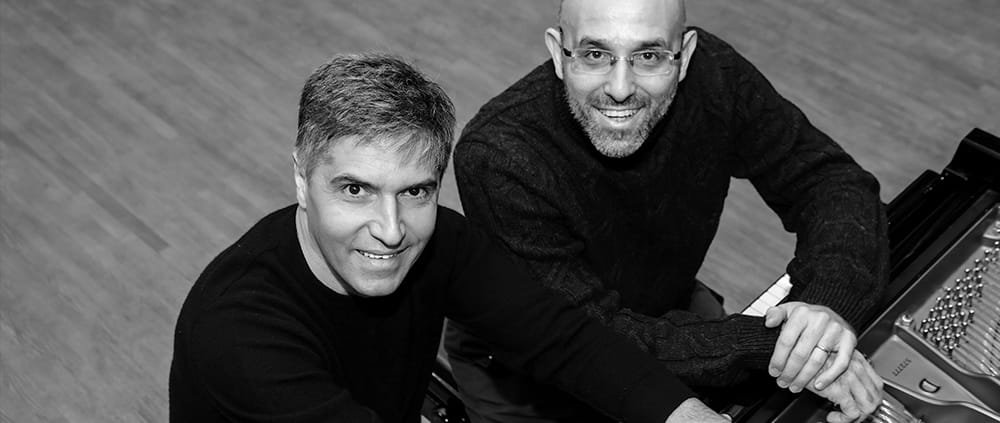 Data/Day: 19/08/2022
Ora/Time: 18:30
Location: Villa Carlotta
A QUATTRO MANI
Duo Schiavo-Marchegiani (pianoforte a 4 mani)
PROGRAMMA
W.A. MOZART (1756-1791):
Fantasia in Fa minore per organo meccanico K. 608
Andante e 5 variazioni in Sol maggiore K. 501
Sonata in Fa maggiore K. 497 (I. Adagio – Allegro molto, II. Andante, III. Allegro)
J. BRAHMS (1833-1897) 4 Danze Ungheresi:
n. 2 in Re minore: Allegro non assai
n. 4 in Fa minore: Poco sostenuto
n. 5 in Fa diesis minore: Allegro
n. 6 in Re bemolle maggiore: Vivace
G. ROSSINI (1792-1868): Ouverture da "L'italiana in Algeri"
GLI ARTISTI / THE ARTISTS 🤵🤵
Il Duo Schiavo-Marchegiani è apprezzato dal pubblico e dalla critica internazionale per lo stile personalissimo, la naturalezza del discorso musicale, la bellezza del suono, l'intensità e la travolgente energia delle loro interpretazioni.
Parallelamente all'intensa attività solistica, dal 2006 Sergio Marchegiani e Marco Schiavo formano un duo pianistico tra i più attivi e dinamici sulla scena italiana e internazionale. Hanno tenuto molte centinaia di concerti in tutto il mondo, suonando nelle sale più prestigiose: Sala Grande della Carnegie Hall a New York, Sala Grande della Philharmonie e del Konzerthaus a Berlino, Sala d'Oro del Musikverein e Sala Grande del Konzerthaus a Vienna, Sala Grande del Mozerteum a Salisburgo, Laeiszhalle ad Amburgo, Beethoven-Haus a Bonn, Rudolfinum e Smetana Hall a Praga, Bulgaria Hall a Sofia, Teatro dell'Hermitage a San Pietroburgo, Suntory Hall a Tokyo, Teatro Petruzzelli di Bari e inoltre a Roma, Parigi, Zurigo, Sofia, Istanbul, Oslo, Helsinki, Mosca, Montreal, Washington, Città del Messico, Montevideo, San Paolo del Brasile, Baku, Astana, Hong Kong, Bangkok, Singapore, ecc. Nel 2013 hanno debuttato al Ravello Festival; nel 2017 hanno tenuto un recital presso la Sala Verdi del Conservatorio di Milano nella Stagione della Società dei Concerti che li ha nuovamente invitati nel 2019.
Si sono esibiti con importanti orchestre come i Berliner Symphoniker, la Royal Philharmonic Orchestra, la Budapest Symphony Orchestra, la Prague Radio Symphony Orchestra, la Sofia Philharmonic Orchestra, la New York Symphonic Orchestra, l'Orchestra Sinfonica dello Stato del Messico, l'Orchestra Sinfonica di Istanbul, le Orchestre da Camera di Città del Messico, Praga e Madrid e la Camerata Ducale di Vercelli.
Hanno registrato per emittenti radio-televisive nazionali in Italia (RAI Radio3), Repubblica Ceca (in diretta nazionale sul terzo canale radio dalla Dvořák Hall), Svizzera, Germania, Bulgaria, Russia, Messico e Hong Kong.
Marco Schiavo e Sergio Marchegiani sono artisti Decca. Nel 2014 la prestigiosa etichetta pubblica il loro primo CD dedicato a Franz Schubert che ha ottenuto ottime recensioni dalla critica specializzata: "pianismo totale e d'alta scuola" (Antonio Brenna, "Amadeus"); "Va lodato il duo formato da Schiavo e Marchegiani… L'immenso tema della solitudine [nella Fantasia in Fa minore] e del suo esorcismo è superbamente espresso dai due eminenti pianisti" (Claudio Strinati, "Il Venerdì di Repubblica").
Nel 2018 esce il secondo CD dal titolo "Dances" con le Danze Ungheresi e i Valzer op. 39 di Johannes Brahms. "… perfetto equilibrio, frutto di una serrata ricerca… un levigato e ammirevole bilanciamento sonoro e stilistico" (Mattia Rossi, 5 stelle su "Amadeus"); "Un'esecuzione che non si ascolta, ma che si beve con le orecchie, come se fosse un flûte di champagne reso suono. La brillantezza del timbro, la chiarezza dell'eloquio, l'esaltazione del ritmo rendono questo CD la registrazione di riferimento in assoluto per il WoO 1 e l'op. 39. Irrinunciabile" (Andrea Bedetti, 5/5 su "MusicVoice").
Nel 2020 Decca pubblica un terzo CD con i Concerti per due pianoforti K. 242 e K. 365 di Mozart e il Concerto per pianoforte a 4 mani di Kozeluch registrati a Londra con la Royal Philharmonic Orchestra diretta da Gudni A. Emilsson. "Esecuzioni molto vivaci e molto precise, con suono piccolo e tocco scattante che ricordano il fortepiano, e con qualche momento oggi abbastanza insolito… Ma ciò che la gente del mestiere nota di più è la sgranatura dei trilli, sempre frementi, sempre misurati col contagocce come se ci fossero di rinforzo alla strumentazione alcuni usignoli" (Piero Rattalino, 4 stelle su "Musica").
Nell'estate 2021 è uscito "Mozart for two", il nuovo CD interamente dedicato alle Sonate di Mozart.
Hanno studiato con grandi didatti quali Ilonka Deckers Küszler, Alexander Lonquich, Bruno Canino, Franco Scala, Aldo Ciccolini e Sergei Dorenski. Insegnano nei Conservatori di Alessandria e Potenza, sono spesso invitati a far parte di giurie di concorsi internazionali e tengono masterclass in tutto il mondo (Spagna, Serbia, Turchia, Stati Uniti, Messico, Kazakhstan, Giappone, Australia, Brasile, ecc.).
***
Mr. Schiavo and Mr. Marchegiani are highly appreciated by the audience and critics for their musical personality, great expressiveness and naturalness, beauty of sound, intensity and overwhelming energy of their performances.
At the same time as their solo concert international activity, since 2006 they play together all over the world performing hundreds of concerts in the most prestigious venues and festivals including Carnegie Hall in New York, Goldener Saal at Musikverein and Konzerthaus in Vienna, Mozarteum in Salzburg, Philharmonie (Grosser Saal) and Konzerthaus in Berlin, Laeiszhalle in Hamburg, Beethoven-Haus in Bonn, Rudolfinum and Smetana Hall in Prague, Bulgaria Hall in Sofia, Hermitage Theater in St. Petersburg, Sala Verdi in Milan, Suntory Hall in Tokyo, Solis Theatre in Montevideo, Sao Paulo Hall in Brazil as well as in Rome, Paris, Zurich, London, Sofia, Istanbul, Helsinki, Moskow, Toronto, Montreal, Washington, Mexico City, Baku, Astana, Hong Kong, Bangkok, Singapore, etc.
Their dazzling career has made them regular guests with the most prestigious orchestras such as Royal Philharmonic Orchestra, Berliner Symphoniker, Budapest Symphony Orchestra, Prague Radio Symphony Orchestra, Sofia Philharmonic Orchestra, New York Symphonic Orchestra, Mexico State Symphony Orchestra, Istanbul Symphony Orchestra, Prague Chamber Orchestra, Madrid and Prague Chamber Orchestra.
Mr. Schiavo and Mr. Marchegiani are Decca artists. In 2014 Decca published their first CD, completely dedicated to Franz Schubert which got amazing reviews from the critics. "In the Fantasia the two pianists play with a lively and easy immediacy, whilst giving a strong sense of clarity to Schubert's more poetic movements… it has some lovely poignant moments and his highly evocative… The remainder of the items on the disc are all admirably played" (Robert Hugill); "Marco Schiavo and Sergio Marchegiani do a nice job with this music… they're forthright and clear-eyed, producing a nice range of tones and textures, and handling transitions with assurance…" (Stephen Francis Vasta).
The next CD was published in 2018 entitled "Dances" with Johannes Brahms' 21 Hungarian Dances and 16 Waltzes Op. 39: "… a smooth and admirable sound and stylistic balance" (Mattia Rossi); "Reference recording for Hungarian Dances and Op. 39. Inalienable" (Andrea Bedetti); "Gleaming, limpid performances of delightful, well-wrought music, in excellent sound. Get it" (Stephen Francis Vasta).
In 2020 Decca published a CD contains Mozart' Concertos for two pianos and orchestra K. 242 and K. 365 and Kozeluch' Concerto for piano 4-Hands recorded in London with Royal Philharmonic Orchestra. "A CD we recommend to everyone… Don't miss it!" (Cesare Guzzardella su "Corrierebit").
In July 2021 a new CD with Mozart' Sonatas for Piano 4-Hands was released.
They recorded for important National TV and Radio channels in Italy (RAI Radio3), Czech Republic (live from the Dvořák Hall), Switzerland (RTS), Germany, Bulgaria, Russia, Mexico, Hong Kong, etc.
Sergio Marchegiani and Marco Schiavo studied with great musicians such as Ilonka Deckers Küszler, Alexander Lonquich, Bruno Canino, Franco Scala, Aldo Ciccolini and Sergei Dorenski. They are piano professor in Alessandria and Potenza Conservatories and are in frequent demand for masterclasses and piano competition jury all over the world (Spain, Serbia, Turkey, United States, Mexico, Kazakhstan, Japan, Australia, Brazil, etc.).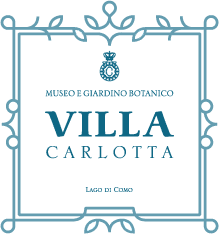 In collaborazione con Ente Villa Carlotta
L'ingresso include la visita di Villa Carlotta. Potete accedere ai giardini e al museo già dalle 15:00. Il concerto si terrà alle 18:30. La biglietteria del Festival a Villa Carlotta apre alle 15:00.
The ticket includes the visit of Villa Carlotta. You can enter the garden and the museum from 15:00. Concert will take place at 18:30. Festival box office at Villa Carlotta opens at 15:00.
RISERVA UN POSTO – RESERVE A PLACE 🪑🪑
– tutte le nostre sedi garantiscono l'accesso ai portatori di handicap
– tutti i portatori di handicap e i loro accompagnatori accedono gratuitamente
CONDIVIDI UN PASSAGGIO – CARPOOLING 🚗🚙🚕🚗🛻🏍🛵🚗
Abbiamo bisogno del vostro aiuto! Ci farebbe piacere che raggiungeste le sedi dei concerti utilizzando il minor numero di auto possibile perché non vorremmo trasformare i meravigliosi paesaggi in cui ci troveremo in un parcheggio, quindi abbiamo creato questo servizio per voi… Tra l'altro i viaggi sono più divertenti se ci sono più persone in una macchina. Potete chiedere un passaggio o offrirne uno!
We need your help! We would like you to reach the concert venues using as few cars as possible because we do not want to turn the wonderful landscapes in which we will find ourselves into a parking space, so we have created this service for you… By the way, journeys are more fun if there are several people in a car. You can ask for a ride or offer one!
carpooling link:
https://my.covevent.be/lcmf5
Come funziona – How it works:
Come funziona – How it works:
SENZA CARTA – PAPERLESS 🌳🌳🌳
Questo concerto fa parte del progetto "Meno Carta più Dialogo" di Amadeus Arte.
Da vari anni cerchiamo di ridurre drasticamente il consumo di carta. Non possiamo esimerci dallo stampare del materiale promozionale da distribuire o per affissioni, ma sentiamo la necessità di ridurre il più possibile l'utilizzo di questo supporto. Quest'anno dunque non stamperemo più i programmi di sala che saranno disponibili online. Un un link e QR code scansibile da qualunque smartphone (iOS, Android, Windows) alla cassa o al banco informativo permetterà al pubblico di avere il programma e la biografia dell'artista. In ogni concerto gli artisti annunceranno i brani direttamente al pubblico anche spiegando, se lo desiderano, il perché della loro scelta. In ogni concerto ci sarà spazio per domande e interazione. Gli spazi utilizzati non hanno la divisone scena-pubblico ciò  permette di realizzare questa condivisione al meglio. Desideriamo con grande enfasi risparmiare energia e carta (salvando alberi ed acqua), aumentare la socializzazione, l'interscambio e l'umanità dei concerti stessi.
This concert is part of the "Less Paper more Dialogue" project by Amadeus Arte.
For several years we have been trying to drastically reduce paper consumption. We cannot exempt ourselves from printing promotional material to be distributed or for billboards, but we feel the need to reduce the use of this medium as much as possible. This year, therefore, we will no longer print the concert programs that will be available online. A link and QR code that can be scanned from any smartphone (iOS, Android, Windows) at the cash desk or at the information desk will allow the public to have the artist's program and biography. In each concert the artists will announce the pieces directly to the public also explaining, if they wish, the reason for their choice. In every concert there will be room for questions and interaction. The spaces used do not have the scene-audience division, which allows this sharing to be achieved in the best possible way. We want with great emphasis to save energy and paper (saving trees and water); to increase socialization, exchange and the humanity of the concerts themselves.
Sede Concerto/Concert's Location:
Villa Carlotta
Prossimi Concerti/Upcoming Concerts:
| | Data/Ora | Evento |
| --- | --- | --- |
| | 08/06/2023 - 19:00 | Gianluca Campi (fisarmonica) - Banca Generali, Como |
| | 11/06/2023 - 11:00 | Quartetto Libertango (violoncello, bandoneon, fisarmonica, contrabbasso) - Villa del Balbianello, Tremezzina |
| | 21/07/2023 - 18:30 | Milo Ferrazzini-Hauri, Claude Hauri (duo di violoncelli) - Villa Carlotta, Tremezzina |
| | 28/07/2023 - 18:30 | Federico Mondelci, Paolo Zannini (sassofoni, pianoforte) - Villa Carlotta, Tremezzina |
| | 04/08/2023 - 18:30 | Gradus Jazz Trio - Enrique, Pablo e Santi Lleida Lanau (pianoforte, basso, percussioni) - Villa Carlotta, Tremezzina |
| | 11/08/2023 - 18:30 | Pietro Bonfilio (pianoforte) - Villa Carlotta, Tremezzina |
| | 18/08/2023 - 18:30 | Ludmilla Worobec-Witek, Artur Jaron (violino, pianoforte) - Villa Carlotta, Tremezzina |
| | 25/08/2023 - 18:30 | Xin Wang & Florian Koltun (pianoforte a quattro mani) - Villa Carlotta, Tremezzina |
| | 01/09/2023 - 18:30 | Susanna Rigacci, Ivana Francisci (soprano, pianoforte) - Villa Carlotta, Tremezzina |
| | 03/09/2023 - 17:00 - 18:30 | Mario Carbotta, Floraleda Sacchi (flauto, arpa) - Alzate Brianza, Alzate Brianza |
| | 08/09/2023 - 18:30 | Aleksandra Gudzio, Marco Borroni (mezzosoprano, pianoforte) - Villa Carlotta, Tremezzina |
| | 10/09/2023 - 17:30 - 19:00 | Bertrand Giraud (pianoforte) - Villa Bernasconi, Cernobbio |
| | 17/09/2023 - 17:30 - 19:00 | Lapo Vannucci, Luca Torrigiani (chitarra e pianoforte) - Villa Bernasconi, Cernobbio |