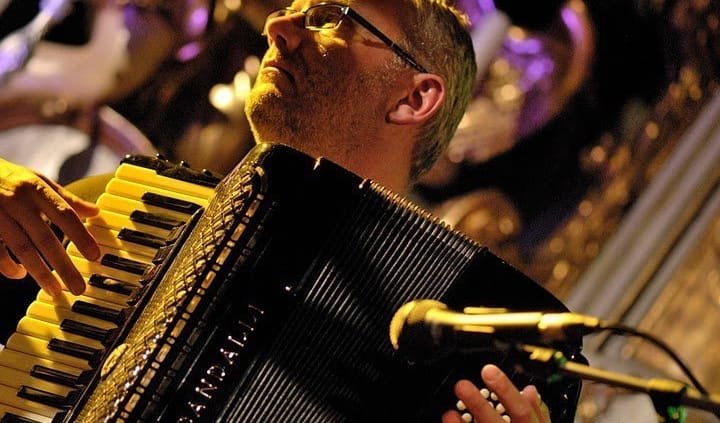 Data/Day: 26/09/2015
Ora/Time: 16:30
Location: Pinacoteca Civica - Palazzo Volpi
Boris Lenko (fisarmonica)
Peter Machajdik (elettronica e video)
J. S. Bach: Preludium and fuga g mol WTK II, BWV 885
D. Scarlatti: Sonata E Major K. 135 L. 224 Allegro
G. Ligeti: Musica ricercata (Auswahl)
P. Machajdík: 5 Mirrors for accordion
B. Lenko: Etude No1, Arwa, Juta
P. Machajdík: Effugium (for those who don't close their eyes) – nuovo brano dedicato al LakeComo festival
O. Schmidt: Toccata No 2
J. Zorn: Road runner
Italiano
Boris Lenko:
Diplomato al Conservatorio di Žilina (Anton Pittner) e l'Accademia di Belle Arti di Bratislava (Marta Szökeová), la sua carriera internazionale è decollato dopo aver vinto vari concorsi, in particolare l'Andrezieux-Boutheon nel 1987. Negli anni Novanta era già classificato come uno degli artisti slovacchi più affermati, eseguendo regolarmente concerti e registrazioni.
Boris Lenko è una di quelle rare specie di musicisti versatili che si esibiscono tutto ciò che vanno dal repertorio classico, musica seria contemporanea, attraverso vari progetti cross-over fino al jazz.
Ha incorporato molti elementi innovativi nel repertorio della fisarmonica in Slovacchia, soprattutto con l'introduzione di opere di personalità significative della scena americana ed europea del dopoguerra (J. Zorn, M. Kagel, M. Lindberg, G. Klucevsek, L. v Vierk, L. Berio, M. Sørensen) ed eseguendo in prima assoluta nuove opere slovacche (J. Beneš, P. Zagar, M. Burlas, P. Machajdik, I. Zeljenka, I. Szeghy, M. Piaček, J. Irsai, l. Burgr, L. Kupkovič…). Si esibisce regolarmente in festival di musica contemporanea ed è diventato un pioniere con la sua introduzione delle opere di A. Piazzolla in Slovacchia nel progetto eccezionale successo Triango.
Boris Lenko si dedica anche alla composizione ed è docente presso l'Accademia di Belle Arti di Bratislava. Nel maggio 2014 è stato nominato dal Presidente della Repubblica Slovacca Ivan Gašparovič come "professore nell'arte della Musica".
Peter Machajdik: Peter Machajdík è cresciuto a Bratislava, ma ha vissuto a Berlino negli ultimi 20 anni. Iniziò lo studio della musica a sei anni e a sette lo studio del pianoforte. Nel 1980 non è stato accettato all'Accademia Musicale di Bratislava perché il suo concetto di musica, in quel momento, era stato fortemente influenzato dal avant-garde occidentali e considerato troppo alternativo per la scuola.
A 27 anni, Machajdík si è laureato presso l'Università di Economia di Bratislava. Il suo primo riconoscimento internazionale come compositore è arrivato con il suo lavoro multimediale Intimate Music con David Moss a Inventionen 1994 a Berlino. La sua prolifica produzione da allora è stata eseguita e trasmessa in tutto il mondo e la sua produzione musicale non si è rivolta solo alla musica per concerti, ma anche quella per il teatro, il cinema, la danza moderna e le arti visive. Le sue opere principali sono Nell'autunno del suo abbraccio insonne per arpa,  Kyrie e Domine per coro misto a cappella, Als der Wind in den Dünen per archi, e Namah per orchestra d'archi che è stato premiato dal direttore Anu Tali presso la Sala Concerti della Radio Slovacca di Bratislava nel 2002.
Machajdík ha ricevuto numerose commissioni e riconoscimenti tra cui: Fondazione Kulturfonds, Fondazione Russolo-Pratella, Fondo Musicale Slovacco, Radio della Repubblica Ceca, Germania Accordion Society e da Bratislava Music Festival . Nel 1992 è stato invitato a vivere e lavorare a Berlino come ospite del prestigioso DAAD Künstlerprogramm. Machajdík è stato anche il compositore in residence presso Schloss Wiepersdorf, in Germania, a Künstlerhäuser Worpswede e presso Künstlerhaus Lukas in Ahrenshoop sulla costa tedesca del Mar Baltico. Nel 2006 ha ricevuto il Jan Levoslav Bella Prize, il premio più significativo per la musica in Slovacchia.
La musica di Peter Machajdík è spesso eseguita a in importanti festival tra cui: Inventionen – Berlino; New Work Festival – Calgary;  LakeComo Festival; Hörgänge – Vienna; young.euro.classic – Berlino; Nuovi Spazi Musicali – Roma; Melos-Ethos – Bratislava; 5 Giornate per la Nuova Musica – Milano, Musica Nova – Sofia, Festival de Jazz et Musiques d'Aujourd'hui – Mulhouse; Review of Composers – Belgrado; Arte Audio Festival – Cracovia, così come nei Paesi Bassi, Italia, Belgio, Canada, Danimarca, Svizzera, Portogallo, Repubbliche Ceca e Slovacca, gli Emirati Arabi e gli Stati Uniti. Prime delle sue opere sono avvenute alla Deutsche Oper di Berlino, Bratislava, Slovak Philharmonic Hall, Konzerthaus di Berlino, Tenri Cultural Institute di New York, Ignacy Paderewski Pomerania Philharmonic Hall, Adolphus Busch Hall di Cambridge (MA), e la Sala Filarmonica di Trento.
Interpreti della musica Machajdík hanno incluso artisti del calibro di as Carson Cooman, Floraleda Sacchi, Guido Arbonelli, Piero Salvatori, Ivano Ascari, Elina Mustonen, Jon Anderson (the voice of YES), David Moss, Czechoslovak Chamber Duo, Boris Lenko, Sonia Lee, Peter Katina,  Milan Paľa, Jozef Lupták, conduttori Anu Tali, Aleksander Gref, Peter Breiner, Maria Makraki, Ondřej Kukal e Karol Kevický, Orchestra Filarmonica Janáček, Orchestra da Camera della Filarmonica Slovacca, Orchestra Filarmonica di Košice, Filarmonica Pomorska di Bydgoszcz, ARTE Quartett, Acco Duo, Camerata Europea, Lugansk Symphony Orchestra, Veni Ensemble, Zwiebel Quartet e al.
Machajdik sceglie spesso a comporre le sue opere in luoghi solitari. Le sue composizioni attingere a diverse fonti di ispirazione, soprattutto dalla polifonia e armonie modali della musica antica. Negli ultimi anni le opere Machajdík sono state caratterizzate da entrambe le economia di materiale e rigore di metodo, dimostrando così che quello che può essere semplice linguaggio musicale può tuttavia essere potenti. Anche elementi quali l'uso controllato della dissonanza, sonorità sostenuto, poco appariscente movimento melodico e l'uso frequente di tonalità minori si applicano allo stile compositivo Machajdík's. La maggior parte delle sue composizioni hanno un carattere meditativo.
English
Boris Lenko: 
As a graduate of the Žilina Conservatorium (Anton Pittner) and the Academy of Fine Arts in Bratislava (Marta Szökeová), his international career took off after successfully competing in various competitions, mainly after winning in Andrezieux-Boutheon in 1987. In the nineties he was already ranked as one of the most established Slovak artists, performing regular concerts and making recordings.
Boris Lenko is one of those rare kinds of versatile musicians who perform everything ranging from the Classical repertoire, contemporary serious music, through various cross-over projects (Požoň sentimentál, Phurikane giľa, ALEA, Chassidic Songs) up to jazz (Triango).
He incorporated many innovative elements into the accordion repertoire in Slovakia, mainly by introducing works by significant personalities of the post-war American and European scene (J. Zorn, M. Kagel, M. Lindberg, G. Klucevsek, L. v Vierk, L. Berio, M. Sørensen) and premiering and initiating new Slovak works (J. Beneš, P. Zagar, M. Burlas, P. Machajdík, I. Zeljenka, I. Szeghy, M. Piaček, J. Iršai, Ľ. Burgr, L. Kupkovič…). He regulary performs at contemporary music festivals – Evenings of New Music and the festival Melos-Ethos. In 2001, for the first time in the history of the festival, he performed a full evening accordion-recital at Bratislava Music Days. A year later he performed for the first time at the prominent contemporary music festival Warsaw Autumn.
Boris Lenko became a pioneer with his introduction of the works of A. Piazzolla in Slovakia and in 2001 he established the chamber ensemble ALEA (accordion, violin, piano and double bass), concertrating on the interpretation of Piazzolla´s music. Lenko´s fascination with the Argentinian tango has led to co-operation with Peter Breiner in the exceptionally successful project Triango.
Boris Lenko also devotes himself to his own compositions and is a senior lecturer at the Academy of Fine Arts in Bratislava. In May 2014 he has been appointed by President of Slovak Republic Ivan Gašparovič as a Professor of Music Arts.
Peter Machajdik: Peter Machajdík is a composer of a wide range of chamber, orchestral, electronic and multimedia works. His music has been commissioned and performed by celebrated soloists, orchestras and ensembles such as Floraleda Sacchi, the Janáček Philharmonic Orchestra, Slovak Chamber Orchestra, Guido Arbonelli, Lugansk Symphony Orchestra, Elina Mustonen, I.J.Paderewski State Philharmonic Orchestra, Slovak Radio Symphony Orchestra, Camerata Europea, Carson Cooman, Quasars Ensemble, Boris Lenko, Ensemble Ricercata, Arte Quartett, and Piero Salvatori to name just a few. He has also worked with David Moss, Nicolas Collins, Malcolm Goldstein, Dietmar Diesner, and the rock singer Jon Anderson. Heard in a diverse array of venues ranging from classical to experimental to jazz, Peter Machajdík's works have been featured in festivals such as Inventionen in Berlin, New Work in Calgary, Early Music Festival in Boston, LakeComo Festival, Nuovi Spazi Musicali in Rome, Young Euro Classic in Berlin, Hörgänge at the Konzerthaus in Vienna, Audio Art Festival in Cracow, Melos-Ethos and the Bratislava Music Festival as well as in music series set in modern art galleries. He has also composed scores for feature films and documentaries, theatre and radio plays. Current projects include commissions from the Melos Ethos Festival, Ensemble Metamorphosis, as well as a commission to create a sound-based artwork for the Belianska Cave in the High Tatra mountains. Once of the central figures in the avant-garde and contemporary music scene in former Czechoslovakia for over 20 years, Peter Machajdík has been awarded a 1992 DAAD artist residency in Berlin, a 2011 International Visegrad Fund individual artist grant, and the Ján Levoslav Bella Composition Prize.
   DOWNLOAD PHOTO HD
   DOWNLOAD PHOTO HD
"With the support of the Ministry of Culture of the Slovak Republic"
"Con il supporto del Ministero della Cultura della Repubblica Slovacca"
Questo concerto è realizzato con il contributo e il patrocinio del Comune di Como.
Assessorato alla Cultura.
Sede Concerto/Concert's Location:
Pinacoteca Civica - Palazzo Volpi
Prossimi Concerti/Upcoming Concerts:
Nessun evento / Any event scheduled at the moment