Data/Day: 07/09/2014
Ora/Time: 21:00
Location: Villa del Soldo
21.00 concerto – ingresso gratuito
JACOPO FRANCINI (violoncello)
J.S. Bach: Suite n.1 BWV 1007 (Prelude-Allemande-Courante-Sarabande-Minuetto 1-2, Gigue)
H. W. Henze: Ephitaf-Capriccio for Paul Sacher
B. Britten: Tema Sacher
G. Ligeti: Sonata
G. Cassado: Suite in Re min Preludio-Fantasia-Sardana-Intermezzo e Danza Finale
IT
Jacopo Francini, nato a Firenze nel 1968, ha iniziato lo studio del violoncello a dieci anni. Dopo aver studiato con il M° Franco Rossi al Conservatorio "L.Cherubini" di Firenze, si è poi diplomato con il massimo dei voti e la lode al Conservatorio "B. Marcello" di Venezia con il M° A.Vendramelli. Ha partecipato a corsi di perfezionamento con YoYo Ma, K. Geogian, D. Geringas, R. Filippini, P. Muller, A. Nannoni, per cinque anni alla Fondazione "R. Romanini" di Brescia con Mario Brunello e attualmente con Giovanni Sollima. Vincitore di concorsi violoncellistici quali Vittorio Veneto, Chieti, Biella, ha svolto un intensa attività cameristica che lo ha portato ad avere affermazioni in concorsi quali Vittorio Veneto (Premio Speciale per Duo), Casale Monferrato, Pinerolo, Stresa, Bari, Trieste, Busalla, Palmi. Come solista si è esibito in molteplici occasioni eseguendo con l'Orchestra del Teatro Verdi di Trieste il concerto di E. Elgar diretto dal M. L. Zagrosek, il concerto di F. Margola diretto dal M° P. Longo, il concerto di N. Rota diretto dal M° C. Rovaris, il Triplo Concerto di Beethoven con la Filarmonica di Zagabria ed il concerto di Schumann con l'orchestra giovanile di Friburgo. Per venti anni ha ricoperto il ruolo di primo violoncello presso la "Fondazione Teatro Verdi" di Trieste oltre ad aver collaborato nel medesimo ruolo con l'Orchestra Nazionale Rai, l'Orchestra del Maggio Musicale Fiorentino, l'Orchestra Regionale Toscana, l'Orchestra Filarmonica Marchigiana, l'Orchestra Sinfonica de Tenerife, l'Orchestra del Teatro dell'Opera di Roma, suonando con direttori quali Zubin Metha, S. Bichkov, R. Muti, W. Sawallish, G. Bertini, E. Inbal, Y. Aronovich, Fedoseyev, D. Oren, D. Renzetti, S. A. Reck, W. Nelson, P. Steinberg, N. Santi, U. Sudan, ecc. Ultimamente insieme al M° Mauro Muraro, primo contrabbasso del Teatro Verdi, ha fondato il Duo Rossini, formazione inusuale con la quale ha effettuato numerosi concerti in Italia e all'estero. Attualmente è docente di Musica da Camera presso il Conservatorio "E. R. Duni"di Matera.
EN
Born in Florence in 1968, Jacopo Francini started playing the cello at 10 years. After his studies with Maestro Franco Rossi at the "L.Cherubini" Conservatory in Florence, he graduated receiving top marks with distinction at the "B.Marcello" Conservatory in Venice under the guidance of Maestro Adriano Vendramelli. He followed his studies with several specialisation courses under such illustrious Maestros as R. Filippinni, P. Muller, Yo Yo Ma, K. Georgian, D. Geringas, M. Flaksman and he attended the five-year master classes organized by the "R.Romanini"Foundation of Brescia with Mario Brunello. Actually she studies with Giovanni Sollima. He has won prizes in various cello competitions such as Vittorio Veneto,Chieti and Biella; his intense activity in chamber music groups has won him many acknowledgments and awards in competitions including Vittorio Veneto, Casale Monferrato,Pinerolo, Stresa, Bari, Trieste, Palmi and Busalla. He has given several concerts as a soloist performing the E. Elgar concert for cello and orchestra with the "Teatro Verdi" Orchestra of Trieste, conducted by Maestro L. Zagrosek, the R. Schumann concert with the Youth Orchestra of Freeburg, and the L.v. Beethoven Triple Concert with the Zagreb Philharmonic Orchestra. He is principal Cello for the "Fondazione Teatro Verdi" Orchestra in Trieste and he hold the same position at RAI Orchestra, Maggio Musicale Fiorentino , the Tuscany Regional Orchestra (ORT), the Marchigiana Philarmonic Orchestra, the Tenerife Symphony Orchestra, conducted among others by Zubin Mehta, S. Bichkov, R. Muti, Chung, Sawallish, Bertini, Inbal, Aronovich, Fedosejev, Oren, Renzetti and Nelson. Recently, he has created the "Rossini Duo" in collaboration with Maestro Mauro Muraro; with this unusual combination in chamber music (cello and double bass) he has given many concerts in Italy and abroad. He teaches at Matera Conservatory.
Questo concerto è realizzato con il contributo e il patrocinio del Comune di Alzate Brianza.

Nel concerto sarà presentato il nuovo CD di Jacopo Francini ed edito da Amadeus Arte BACH➠DONATONI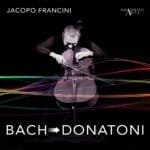 Sede Concerto/Concert's Location:
Villa del Soldo
Prossimi Concerti/Upcoming Concerts:
Nessun evento / Any event scheduled at the moment