Data/Day: 19/09/2020
Ora/Time: 15:30
Location: Santuario della Madonna del soccorso
INCENSUM – Sara Calvanelli (fisarmonica), Floraleda Sacchi (arpa)
Quest'anno abbiamo cercato modi innovativi per poter godere della musica e degli spazi aperti. Per le capienze ridotte non riusciamo a soddisfare le numerose richieste di partecipazione e aggiungiamo dunque questo concerto in un luogo che coniuga arte, bellezza e spiritualità: il Santuario della Madonna del soccorso a Ossuccio (Tremezzina).
Potrete salire la collina con una piacevole camminata di poco meno di mezz'ora lungo il viale delle cappelle dichiarato insieme al Santuario Patrimonio dell'Unesco nel 2003. Ad attendervi sulla cima una vista mozzafiato e un momento musicale meditativo e poetico.
L'ingresso è gratuito, ma vi chiediamo di registrarvi sotto per poter monitorare il numero dei posti a sedere disponibili.
This year we have been looking for innovative ways to enjoy music and open spaces. Due to the reduced capacities and the numerous requests for participation that we cannot satisfy, we decided to add this concert in a place that combines art, beauty and spirituality: the Sanctuary of the Madonna del Soccorso in Ossuccio (Tremezzina).
You can climb the hill with a pleasant walk of about 20 minutes along the path of the chapels declared as well as the Sanctuary in 2003 a Unesco World Heritage Site. A breathtaking view and a meditative and poetic musical moment await you on top.
Admission is free, but we ask you to register using the form below in order to monitor the number of seats available.
Musiche di Claudia Montero, Rolf Løvland, Ludovico Einaudi, Philip Glass, Sara Calvanelli, Floraleda Sacchi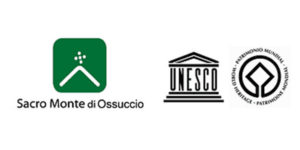 Questo concerto è realizzato in collaborazione con il Santuario della Madonna del soccorso.
Informazioni utili su come raggiungere la sede del concerto

 Questa sede si raggiunge a piedi attraverso la via crucis del Sacro Monte. Potete iniziare il percorso dalla cappella 1 o 4 a seconda del parcheggio che sceglierete o arrivare a piedi con una deviazione dalla Greenway del lago. La passeggiata è parte del Sacro Monte di Ossuccio, patrimonio dell'Unesco. Oltre alle opere d'arte contenute nelle cappelle potrete ammirare un paesaggio unico sul lago. La passeggiata dura meno di mezz'ora e non richiede particolare sforzo. Vi consigliamo comunque calzature comode. Il concerto si terrà nel Santuario e si potrà ascoltare anche dal piazzale antistante. Per tutte le informazioni clicca qui.
This location can be reached walking through the Via Crucis of Sacro Monte. You can start at Chapel 1 or 4 depending where you will park. You can also reach the place arriving form Greenway. The walk is part of the Holy Mountain of Ossuccio, World Heritage. Beside the artworks of the chapels you can enjoy an incredible view on the lake. The walk takes less than 30 minutes and it does not require special effort, but we suggest you to wear sport shoes. The concert will take place in the Santuario but you can listen to it also from the outside yard. For more information follow this link.
INGRESSO GRATUITO CON REGISTRAZIONE
Come funzionerà assistere ad un concerto >>>
Sede Concerto/Concert's Location:
Santuario della Madonna del soccorso
Prossimi Concerti/Upcoming Concerts:
Nessun evento / Any event scheduled at the moment